ABOUT THE AMERICAN INDIAN REPORTER, HISTORY & MISSION STATEMENT
NEWS
Breaking News Stories
MEDIA RESEARCH
News-Media Web Portal

PUBLISHING CORNER
Soboba Indian Reporter
shaynedel.com
Tribal Bloggers

CALIF TRIBAL COMMUNITY
CA Indian Education
Tribal Community Services
Native American Veterans
Legal Resources
Community Leaders
TIR WEB SITE
Contact Us
Our Sponsors
Submission Policy
User Agreement

May 1, 2018: The American Indian Reporter Released Historic First Issue — Are You In?
FREE DOWNLOAD PDF (May 1, 2018)
(Large 25MB PDF)
We invite your participation with The American Indian Reporter Southern California tribal newspaper.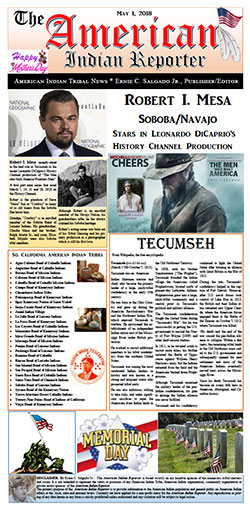 Our first printed issue was released on May 1, 2018. Contact Ernie Salgado for printed copies.
Our first monthly publication is 16 full-color pages, trimmed to 11x22 inches size. We expect our monthly press runs to include up to 32 pages depending on participation and sponsor needs.
The American Indian Reporter is designed to serve Native American Indian tribal members. It is the only tribal-produced newspaper dedicated to serving the Southern California tribes.
The American Indian Reporter provides the SOCAL Indian tribes and American Indian organizations with their own monthly publication to share their news, resources and views.
Participating tribes have options to distribute printed papers by U.S. Mail to their tribal members and offices. We maintain a free DOWNLOAD PDF archive of current and past issues on our website.
Read Ernie Salgado's official release letter announcing the first published tribal newspaper in Southern California.
TOP TRIBAL NEWS STORIES

The American Indian Reporter
AMERICAN INDIAN ACTOR
Soboba's Robert I. Mesa Stars in Leonardo DiCaprio's Movie: The Men Who Built America Frontiersmen
by Ernie C. Salgado, Jr., Soboba tribal elder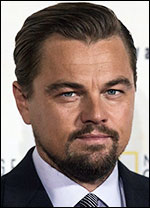 ROBERT I. MESA (Navajo-Soboba) recently starred in the lead role as TECUMSEH in the recent Leonardo DiCaprio's History Channel production of "The Men who built America — Frontiersmen."
The four-part mini series aired March 7, 14, 21 and 28, 2018 on the History Channel.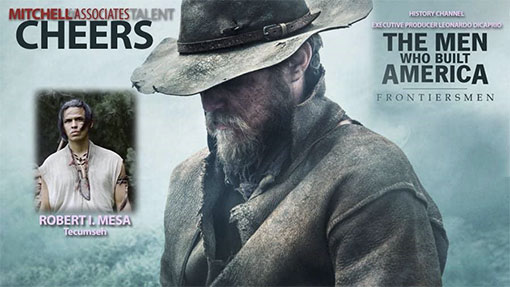 Although Robert is an enrolled member of the Navajo Nation, his grandmother's tribe, he has always claimed his Soboba heritage.
Robert is the grandson of Steve "Mesa" Sun or "Cowboy" as many of us old timers from the Soboba Rez know him.
Grandpa "Cowboy" is an enrolled member of the Soboba Band of Luiseño Indians. His grandmother, Claudia Mesa and her brother, Ralph Arietta Sr., and sister, Elisabeth Mojado, were also Soboba trbal members.
WATCH MOVIE TRAILER:
ROBERT I MESA OFFICIAL BIOGRAPHY & WEBSITE
Robert I. Mesa acting credits include: The Men Who Built America Frontiersmen (2018); From Dusk Till Dawn; The Series (2014); and Jacob (2011).
Robert's acting career was born out of his Tribal Dancing and his primary profession as a photographer which is still his first love.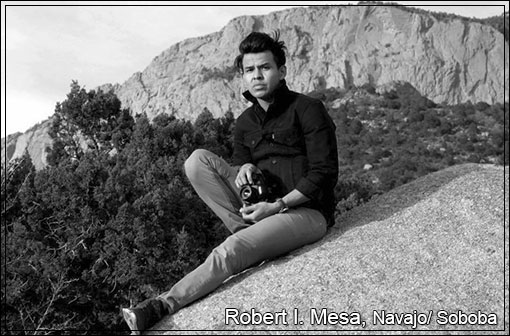 WE WANT YOUR NEWS!
CONTACT ERNIE SALGADO by email, telephone, mailing address
Our tribal newspaper serves the Southern California Indian Reservations with breaking news, features, opinion editorials, education and history:


Agua Caliente Band of Cahuilla Indians
Augustine Band of Cahuilla Indians
Barona Band of Mission Indians
Cabazon Band of Mission Indians
Cahuilla Band of Cahuilla Mission Indians
Campo Band of Kumeyaay Indians
Chemehuevi Indian Tribe
Ewiiaapaayp Band of Kumeyaay Indians
Iipay Kumeyaay Nation of Santa Ysabel
Inaja-Cosmit Band of Kumeyaay Indians
Jamul Indian Village
La Jolla Band of Luiseno Indians
La Posta Band of Kumeyaay Indians
Los Coyotes Band of Cahuilla Indians
Manzanita Band of Kumeyaay Indians
Mesa Grande Band of Mission Indians
Morongo Band of Mission Indians
Pauma Band of Luiseno Indians
Pechanga Band of Luiseno Indians
Ramona Band of Cahuilla
Rincon Band of Luiseño Indians
San Manuel Band of Mission Indians
San Pasqual Band of Mission Indians
Santa Rosa Band of Cahuilla Indians
Santa Ynez Band of Chumash Indians
Soboba Band of Luiseno Indians
Sycuan Band of the Kumeyaay Nation
Torres-Martinez Desert Cahuilla Indians
Twenty-Nine Palms Band of Indians of California
Viejas Band of Kumeyaay Indians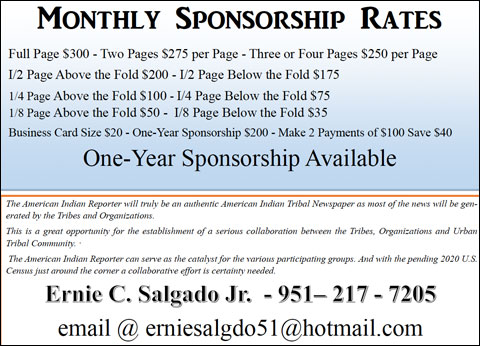 Click to download our AD RATES PDF.
Monthly mailings will be based on mailing lists provided by participating tribes and cost. Additional copies will be distributed to the offices of each participating tribe.
Each participating tribe will have the opportunity to reserve up to four pages per publication.


Each tribe will have opportunities to provide news releases, notices, editorials and such to be included in monthly publications.


In addition to the individual tribal news sections, the American Indian Reporter will include general information and editorial sections.
Participating tribes will also be able to post monthly The American Indian Reporter PDFs on their websites or link to our downloads.
We expect to print and distribute 5,000 to 10,000 copies per month given a 75-percent participation of the Southern California tribes and Indian organizations.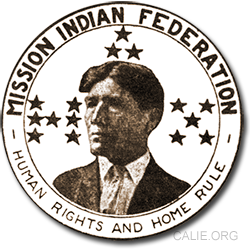 We proudly use the Mission Indian Federation logo in our masthead as a historical symbol of tribal unity.
With great respect,
Ernie C. Salgado, Jr., MBA
Tribal Elder, Soboba Band of Luiseño Indians
CONTACT ERNIE SALGADO by email
USPS mailing address:
P.O. BOX 366
SAN JACINTO, CA 92581

WE WANT YOUR NEWS!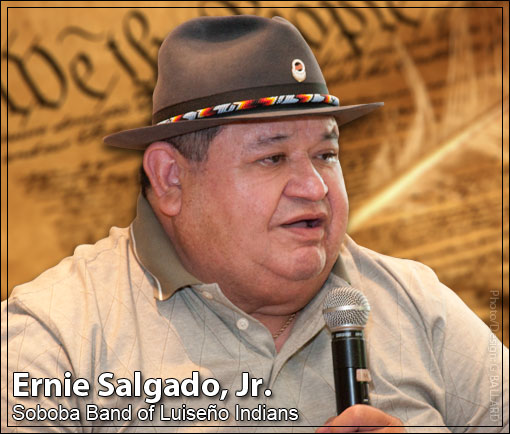 A BIT ABOUT ERNIE:
Read his professional resumé online.
Enrolled member of the Soboba Band of Luiseño Indians located near San Jacinto and Hemet in Southern California, Riverside County.
Vietnam Era military veteran (US Army). Veterans' issues are near and dear to heart.
Founded, developed and currently manages California Indian Education website (www.calie.org). Over 225 MILLION Hits to date (2008-2018); about 300,000 Page Views per month....
Currently self publishes the Soboba Indian Reporter newspaper and www.indianreporter.com website, including authoring dozens of original stories for release over the past several years under strict production deadlines.
Check out Ernie's on-line digital PDF archive of the Soboba Indian Reporter newspapers he's published (2015-2018).

A FEW RECENT TRIBAL STORIES
BY ERNIE SALGADO:

DENNIS BANKS, DEAD AT 80
by Ernie Salgado, Soboba Tribal Elder
I am proud to say Dennis Banks was my friend and one of the "Great Men" of our time...


SANTA ROSA REZ FACING SELECTIVE LAW ENFORCEMENT...
by Ernie Salgado
Although the American Indian Reporter does not support the legalization of marijuana, the enforcement of federal statutes on the Santa Rosa Indian Reservation is troublesome.
At issue is the sovereign authority of the tribe versus the federal statutes of the United States government against the legal cultivation and sales of marijuana (cannabis) in California...


PAUMA'S EDWARD HILL ALL CIF FOOTBALL
by Ernie Salgado
At six foot three and 285 pounds, 15-year-old Edward Hill, a Junior at Valley Center High School in Escondido....

YACK-A-DE-YACK, JOE CALAC
by Ernie Salgado, Soboba Tribal Elder
The year was around 1951–52 when my brothers, Bobby and Dumbo and I were the youthful menaces on the Soboba Indian Reservation...


BACK TO SCHOOL ON THE RESERVATION
by Ernie Salgado, Soboba Tribe
It seems like the older we get the faster time flies or is it just my imagination getting the best of me, again?...


VETERANS DAY, HONORING SOBOBA MILITARY
by Ernie Salgado, Soboba Tribal Elder
Soboba Tribal members have served in the armed forces of the United States in every war and conflict since WWI...


EDWARD CASTILLO is a well-known tribal educator and Native American activist who participated in the historic 19-month American Indian occupation of Alcatraz (1969-1971). He's also a famous Native American Indian book author and retired professor/director of Native American Studies at the Sonoma State University in California...


SILENT RAIN ESPINOZA (Viejas), Christian High School Girls Softball team posted an outstanding .560 batting average with 62 hits and scored 64 runs, named All American First Team...


AVELLAKA ARIVSO (Soboba), Hemet High School Girls Softball team, wins Bulldogs 2017 Most Valuable Player (MVP)...


JOE BURTON (Soboba), a 2009 West Valley High School and Oregon State University Beavers basketball player, Joseph was voted 2016 MVP in his professional rookie year with the French ALM Évreux Basketball league team, continues successful pro sports career...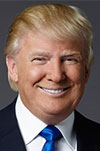 WHY I VOTED FOR DONALD TRUMP
by Ernie Salgado, Soboba Tribal Elder
I am a federally recognized Reservation American Indian. I spent the first 18 years of my life on the Soboba Indian Reservation located in Southern California. And at age 76, I've had the opportunity to experience the greatness of this Country...


JOHN CHIEF MEYERS (Cahuilla, Riverside, CA), 1880-1971, MLB teams the "Ironman" played for: New York Giants, Boston Braves, Brooklyn Robins. Career batting average .291, played in four World Series (1911, 1912, 1913, 1916)...