The primary purpose for the "Soboba Indian Reporter" is to provide the Southern California tribal community with current news about the Soboba Indian Reservation, Hemet, Calif., and provide important breaking news and information that may affect their everyday survival. Originally "The Indian Reporter" was established in 1962 by "Wild Bill" Jennings as a local grass roots tribal newsletter. Ernie Salgado (Luiseño) continued the newsletter electronically on the Internet in 2009. As Editor in Chief Ernie Salgado Jr. is continuing Wild Bill's journalism work in 2017 self publishing under the Soboba Indian Reporter masthead.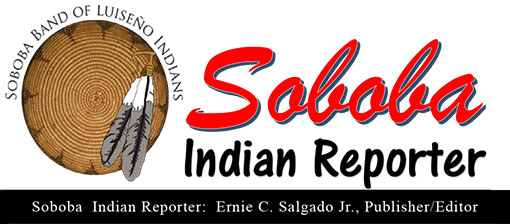 JULY EDITION:
DOWNLOAD NOW PDF
+++++++
WE WELCOME YOUR NEWS & STORY IDEAS:
MAILING & CONTACT INFORMATION:
ERNIE SALGADO, EDITOR
P.O. BOX 366, SAN JACINTO, CA 92581
CONTACT ERNIE SALGADO by email


Soboba's Joseph Burton Takes France By Storm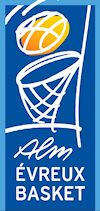 Soboba Tribal member Joe Burton was voted 2016 MVP in his rookie year with the French ALM Évreux Basketball league team.
Joseph began his professional basketball career in 2013 with Aalborg Vi-kings In the Danish Basketligaen, where he averaged 22 points, 12.5 rebounds and 4 assists.
For the 2014–15 season, signed with Landstede Basketball. At the end of the regular season, he won the DBL Statistical Player of the Year Award and was named to the All-DBL Team and DBL All-Defense Team. During the 2015–16 season, Joseph played with the ALM Évreux Basket earning the MVP award.
Joseph played collegiate basketball for the Oregon State Beavers. He is the first Native American man to earn a basketball scholarship at a Pac-10 Conference (now Pac-12) school. In Joseph's senior year at college he averaged 11.0 points per game and 6.4 rebounds per game in 32 games.
He is the only Oregon State player to record over 1,000 points, 700 rebounds and 300 assists. Upon his graduation coach, Craig Robinson and his wife established a scholarship fund in Josephs name for American Indians. A living tribute to an outstanding young man.
Joseph is the son of Dondi Silvas and the grandson of Charlie "B-Bop" and Yvonne Silvas. He was born on November 2, 1990 and live his entire life on the Soboba Indian Reservation.
Read all about it and more in the Soboba Indian Reporter tribal newspaper archives:
Read all about it and more in the Soboba Indian Reporter tribal newspaper archives:
July 2017, PDF
June 2017, PDF
May 2017 PDF
April 2017 PDF
March 2017 PDF
February 2017 PDF
January 2017 PDF
December 2016 PDF
November 2016 PDF
July 2016 issue PDF
June 2016 issue PDF
May 2016 issue PDF
April 2016 issue PDF.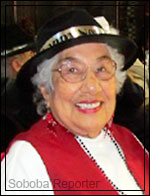 SOBOBA ELDERS/YOUTH
WAR ON DRUGS WALK
By Marian Chacon, Soboba Elder
May 2017
It was that time again and the weather was perfect. We had our annual Elder/Youth walk on March 25, 2017. This year we combined our walk with the 2nd annual War on Drugs walk and it was dedicated to Robert "Bobby" Salgado. He was very interested in the youth and involved in their activities. He also participated in these walks.
We had a great turnout with over 100 people taking part. We started at Soboba tribal hall with Michael Madrigal giving a blessing on the elders, youth and all those present.
The walk was to the Oaks and took about an hour and 15 minutes for a distance of about 2.8 miles one way. Luckily there was a shuttle available to give rides to those who like me were unable to walk the whole way.
At the Oaks, talks were given by Jane Cazabat, Stacia Cozart and Mary Resvaloso on the problems some of their family members had and of their own struggles with alcohol and drugs and of their recovery with the help of the Creator, their families, their culture and the many people who helped them.
A lunch of hamburgers, hot dogs, macaroni and potato salad, fruit and other goodies was served. Special thanks to Carrie Garcia and her crew who did all the food preparation and provided the shuttles. Carrie did a great job in making all the arrangements. She has been a big part of the success of these walks each year and we are grateful for her help. Her crew consisted of the following: Anthony Vega, Martin "Dingas" Valdez, Kenneth "Pogo" Hurtado, Gabriel Lewis, Julian Briones, Emily Lopez and Jessica Valdez.
After the lunch Virginia Duenaz gave a very moving prayer blessing for all those who are in prison. Names were written on cards and hung on a tree branch. She said it is up to all of us to work together to save our children from becoming involved in the use of drugs and alcohol.
Many thanks to Linda Resvaloso and Arlene Salgado for all their help in planning this event. Linda arranged for the T-shirts which were donated by Arlene White and Claudia Magana and the Morongo Diabetes Dept. and for the speakers. Arlene made arrangements for all the tables. Thanks to Albert Duenaz for the loan of the chairs, driving the shuttle and for his very delicious beans. And to Harold Arres for the use of his trailer. Thanks to the Soboba Elders who paid for and donated the food and to the Soboba Fire Dept. and the Public Safety Dept. who were available in case anyone needed assistance. Public Works did a great job in fixing the road past the Oaks. Unfortunately we were unable to have the hay rides to the canyon due to the investigation that was going on. Also thanks to Craig Young for the colorful flyers.
Special thanks to everyone who helps out each year. Without your help we would not be able to have these events. We hope to see you all here next year.
Soboba Tribal Water Right
By Ernie C. Salgado Jr.
February 2017
SOBOBA INDIAN RESERVATION -- Long before Standing Rock the American Indian tribes including Soboba have been fighting the Bureau of Indian Affairs (BIA), powerful Government agencies, Cities, and States to protect the tribal water rights.
Many tribe even had to file law suits against the Bureau of Indian Affairs (BIA) for their failure to protect our water rights which was their responsibility. Many of the BIA agencies went so far as to side with the people that were infringing on the tribal water rights.
Soboba for example, in 1990 was awarded damages by the federal courts against the BIA as part one for failure to protect the Soboba tribes water rights. "Negligence." is what the court labeled It. But it should have been criminal as the BIA administration forced an entire generation to live without an adequate domestic water supply while trying to force the tribe give up their water rights the local water district.
The people of Soboba were forced to haul water from the nearby City of San Jacinto when the water usage on the reservation exceeded underground water level which was set at a depth of 100 feet. Request by the tribal leader to lower the domestic water wells pump to allow for the production of more water was continually denied by the BIA.
And although the tribe had funds allocated and available to increase the ground water supply for the reservations residence it refused to allow it -- for over 30-years.
In 1975 U.S. President, Richard M. Nixon signed Public Law 93-638, the American Indian Self-Determination and Education Act into law. The legislation provided for input into the development of the regulations for the implementation of the Act by the tribes ... READ MORE.
American Indians Second Class Citizens by Choice
By Ernie C. Salgado, Jr. (Soboba tribe)

told myself not to write this article but sometimes I just can't help myself. I guess I'm like the bug in the movie "Bugs Life" when he was told don't look at the lights and as he looked at the light he said "I can't help it." So since I can't help myself I am going to expose this can of worms.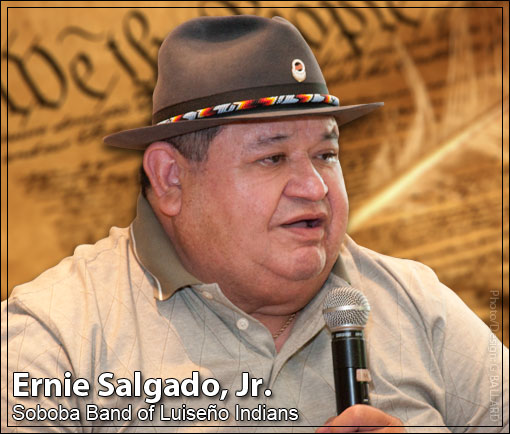 What is pathetic is that non-American citizens seem to get more protections from the Constitution of the United State of America than the American Indian tribal people. In fact just the other day the Federal Court judge in Hawaii ruled that the Trump travel ban was not legal because it violated the Civil Rights of the non-citizens. And if that's not bad enough the Supreme Court ruled that the U.S. forces in combat fighting the Islamic extremist must read them their Miranda Rights.
Sure the United States Congress passed the Indian Civil Rights Act in 1968 (H.R. 2516) stating "The Indian Civil Rights Act of 1968 (ICRA) applies to the Indian tribes of the United States and makes many, but not all, of the guarantees of the Bill of Rights applicable within the tribes. The legislation also addressed the crises of domestic violence that pledge the American Indian community... READ MORE.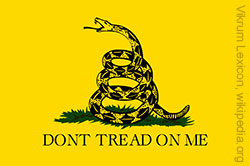 The Gadsden flag is a historical American flag with a yellow field depicting a snake coiled and ready to strike. Positioned below the snake are the words "Don't tread on me". The flag was designed by and is named after American general and statesman Christopher Gadsden. It was also used by the Continental Marines as an early motto flag, along with the Moultrie Flag (source wikipedia.org).
New York town confiscates veteran's flag, claiming "Tea Party" ties
by Timothy Whiteman
The City Council of New Rochelle, NY has ordered the Revolutionary War's Gadsden Flag to be removed from its flagpole and confiscated from a patriotic veteran's group, as reported by the Sacramento Bee on April 8, 2013.
The conservative-leaning Thomas More Law Center has been retained by New Rochelle resident and former U.S. Marine Peter Parente, who is also the president of the United Veterans Memorial & Patriotic Association of New Rochelle, New York (UVMPA-NR).
"We have just begun to fight," Richard Thompson, President and Chief Counsel of the Thomas More Law Center said... READ STORY.
From the CEO, Editor:
"Dear Tribal Community,"
(especially U.S. Military Veterans and their families)
BARONA INDIAN RESERVATION, JANUARY 23, 2013 — Janna Hoehn (Vietnam Veterans Memorial Fund VVMF), representing Jan Scruggs, presented the "Faces Never Forgotten" project to American Indian veterans to develop Tribal involvement in the national project... READ MORE.
SO CAL TRIBAL TIES
PALA BAND OF MISSION INDIANS: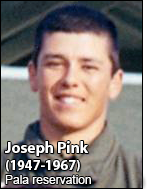 JOSEPH PATRICK PINK is honored on Panel 28E, Row 56 of the Vietnam Veterans Memorial.
Full Name: JOSEPH PATRICK PINK
Wall Name: JOSEPH P PINK
Date of Birth: 10/17/1947
Date of Casualty: 10/23/1967
Home of Record: SAN JACINTO
County of Record: RIVERSIDE
State: CA
Branch of Service: ARMY
Rank: SP4
Casualty Country: SOUTH VIETNAM
Casualty Province: QUANG TIN
MORONGO BAND OF MISSION INDIANS: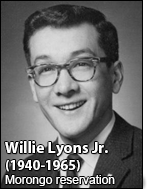 WILLIAM JOHN LYONS is honored on Panel 3E, Row 19 of the Vietnam Veterans Memorial.
Full Name: WILLIAM JOHN LYONS
Wall Name: WILLIAM J LYONS
Date of Birth: 7/27/1940
Date of Casualty: 11/4/1965
Home of Record: BANNING
County of Record: RIVERSIDE COUNTY
State: CA
Branch of Service: ARMY
Rank: 1LT
Casualty Country: SOUTH VIETNAM
Casualty Province: PR & MR UNKNOWN
JAMUL INDIAN VILLAGE A KUMEYAAY NATION: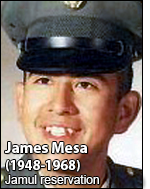 JAMES GREGORY MESA is honored on Panel 42W, Row 48 of the Vietnam Veterans Memorial.
Full Name: JAMES GREGORY MESA
Wall Name: JAMES G MESA
Date of Birth: 9/24/1948
Date of Casualty: 9/30/1968
Home of Record: JAMUL
County of Record: SAN DIEGO COUNTY
State: CA
Branch of Service: ARMY
Rank: PFC
Casualty Country: SOUTH VIETNAM
Casualty Province: QUANG DUC

US Department of Labor announces publication of final tribal consultation policy
News Release
OPA News Release: [12/04/2012]
Contact Name: Adriano Llosa or Laura McGinnis
Phone Number: (202) 693-4686 or x4653
Release Number: 12-2389-NAT
WASHINGTON — The U.S. Department of Labor today published in the Federal Register its finalized tribal consultation policy, which establishes a formal process through which the department will engage in consultation with federally recognized tribes on actions or policies that will have a significant impact on tribal nations. This policy requires that the department's government-to-government consultation with the federally recognized tribes involve appropriate tribal and department officials.
"The finalization of the Department of Labor's tribal consultation policy constitutes an important step in our ongoing efforts to more meaningfully engage with Indian Country," said Secretary of Labor Hilda L. Solis. "Implementation of this policy will ensure that the department honors the government-to-government relationship shared between the United States and the federally recognized tribes."

President Obama previously has cited Executive Order 13175, which was issued by President Clinton, tasking executive branch departments and agencies with engaging in regular and meaningful consultation and collaboration with tribal officials in the development of federal policies that have tribal implications.
Following the president's charge, the Department of Labor began devising a plan. The Department of Labor held a series of consultative listening sessions, including meetings with representatives of the Native American community, the department's Native American Employment and Training Council, and the National Congress of American Indians, preceding the finalization of the tribal consultation policy. A draft version of the policy was published in the Federal Register on April 18, 2012, followed by a comment period that ended June 18.
The final policy can be viewed in the Federal Register here: federalregister.gov
U.S. and Tribal Leaders to Celebrate Soboba of Luiseño Indians Water Rights Settlement Act Today!
SAN JACINTO, Calif. — On Wednesday, Jan. 11, Assistant Secretary of the Interior for Indian Affairs Larry Echo Hawk, Assistant Secretary for Water and Science Anne Castle, Counselor to the Deputy Secretary Letty Belin and other U.S. officials will join tribal leaders including Scott Cozart, Chairman of the Soboba Band of Luiseño Indians, for a ceremony in San Jacinto, Calif., to celebrate conclusion of an historic U.S.-tribal water rights settlement.
Federal funding recently released under the Soboba Band of Luiseño Indians Settlement Act of 2008 marked the final step in the historic water rights settlement and fulfilled promises made to the Soboba Band and southern California communities when the Act was approved by Congress in 2008...SOURCE | PDF.
LOS COYOTES Band in the News:
Los Coyotes Band going for $160 million off-reservation casino deal:
From lucritive U.S. government military and law enforcement contracts to $160 million off-reservation casino plan with the City of Barstow that will create thousands of new jobs in the community, to massive arson-set fire on the reservation — the Los Coyotes band is making news headlines in Indian Country....
RINCON Band in the News:
Rincon-county agreement could mean millions for services:
by Christopher Cadelago, October 12, 2011, The San Diego Union-Tribune
A new tribal gaming agreement between the Rincon Band of Luiseño Indians and San Diego County could generate millions to supplement local firefighting, policing, transportation and problem-gambling treatment, officials said....
Big Supreme Court Win for Rincon Band:
by Michael Gardner, June 27, 2011 (The San Diego Union-Tribune)
SACRAMENTO — The U.S. Supreme Court Monday sided with a North San Diego County Indian tribe that had challenged the state's bid to exact money from casinos in return for permission to add slot machines.
The court, without comment, declined to hear an appeal of an earlier 9th Circuit Court of Appeal ruling in 2008 that declared the assessment illegal.
The decision is a big win for gaming tribes that had claimed former Gov. Arnold Schwarzenegger's demands for money in return for gambling expansions amounted to an illegal tax.
The Rincon Band of Luiseno Mission Indians led the court challenge....


Col. Van T. Barfoot (ret.) WW II Medal of Honor
Army Colonel Barfoot (retired) is one of only five American Indians to be awarded the Congressional Medal of Honor in the 20th century. He served in the WW2, Korean and Vietnam wars...then his neighborhood association told the 90-year-old warrior to take down his flag pole...
Remarks by President Obama at Bill Signing For The Claims Resolution Act — the Cobell v. Salazar Settlement:
For Elouise Cobell, lead plaintiff in the class action lawsuit over the federal government's mismanagement of the Indian Trust, President Obama's signing of legislation approving the settlement of the dispute sends an historic message to Indian Country. "After 123 years of living with what Congress once called the 'Broken Trust,' people throughout Indian Country will see Wednesday as a monumental day," said Ms. Cobell, a member of Montana's Blackfeet Nation.... For complete info please visit: WWW.COBELLSETTLEMENT.COM.
DOWNLOAD PDF | WHITEHOUSE PRESS RELEASE.


BO MAZZETTI blames the governor not the DOI
The situation we find ourselves in with the California compacts is not the doing of the Rincon Band or DOI. The person to blame is the governor of the State of California....
PAUMA TRIBE HOSTS WEEKLY AA MEETINGS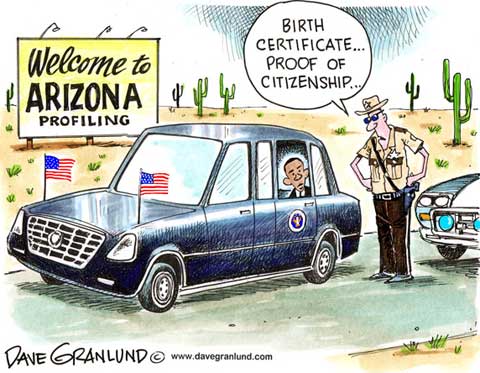 Welcome to Arizona Profiling, "Birth Certificate...Proof of Citizenship..." President Obama being pulled over by police in desert with billboard in background. Editorial cartoon illustration humor copyright Dave Granlund.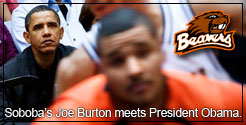 Soboba tribal member Joseph Burton played a college basketball game for President Barack Obama and the first family. Joseph and his teammates later visited the White House. Joseph is a 2009 graduate of West Valley High School and won a full basketball scholarship with Oregon State University OSU — Joseph is the second Soboba tribal member to meet a sitting president.
In the meantime, please see our HISTORY & MISSION STATEMENT.
Note: "The Indian Reporter" newsletter and Web site is not affiliated with www.indianreporter.com www.indianreporter.org www.indianreporter.net www.theindianreporter.org www.theindianreporter.net — we are a Native American Indian news organization based on the Soboba Indian Reservation, Southern CALIF, Southwestern United States of America USA.