The primary purpose for the "Soboba Indian Reporter" is to provide the Southern California tribal community with current news about the Soboba Indian Reservation, Hemet, Calif., and provide important breaking news and information that may affect their everyday survival. Originally "The Indian Reporter" was established in 1962 by "Wild Bill" Jennings as a local grass roots tribal newsletter. Ernie Salgado (Luiseño) continued the newsletter electronically on the Internet in 2009. As Editor in Chief Ernie Salgado Jr. is continuing Wild Bill's journalism work in 2017 self publishing under the Soboba Indian Reporter masthead.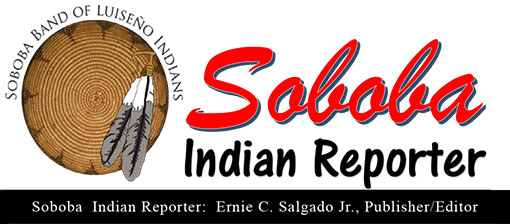 Soboba's Joseph Burton Takes France By Storm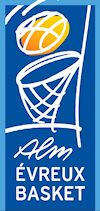 Soboba Tribal member Joe Burton was voted 2016 MVP in his rookie year with the French ALM Évreux Basketball league team.
Joseph began his professional basketball career in 2013 with Aalborg Vi-kings In the Danish Basketligaen, where he averaged 22 points, 12.5 rebounds and 4 assists.
For the 2014–15 season, signed with Landstede Basketball. At the end of the regular season, he won the DBL Statistical Player of the Year Award and was named to the All-DBL Team and DBL All-Defense Team. During the 2015–16 season, Joseph played with the ALM Évreux Basket earning the MVP award.
Joseph played collegiate basketball for the Oregon State Beavers. He is the first Native American man to earn a basketball scholarship at a Pac-10 Conference (now Pac-12) school. In Joseph's senior year at college he averaged 11.0 points per game and 6.4 rebounds per game in 32 games.
He is the only Oregon State player to record over 1,000 points, 700 rebounds and 300 assists. Upon his graduation coach, Craig Robinson and his wife established a scholarship fund in Josephs name for American Indians. A living tribute to an outstanding young man.
Joseph is the son of Dondi Silvas and the grandson of Charlie "B-Bop" and Yvonne Silvas. He was born on November 2, 1990 and live his entire life on the Soboba Indian Reservation.
Read all about it and more in the Soboba Indian Reporter tribal newspaper archives:
January 2017 PDF
December 2016 PDF
November 2016 PDF
July 2016 issue PDF
June 2016 issue PDF
May 2016 issue PDF
April 2016 issue PDF.

Northern Arapaho Leaders Call On All Tribes to Oppose Bill
By Northern Arapaho Tribe
April 1, 2014 Censored News
WIND RIVER RESERVATION, Wyoming—A new push by U.S. Sen. Mike Enzi, R-Wyo., to terminate a portion of the Wind River Reservation should appall and worry Native American people everywhere, Northern Arapaho leaders said Tuesday.
Draft legislation by Enzi, and supported by Sen. John Barrasso, R-Wyo., would eliminate the reservation status of a significant portion of Northern Arapaho and Eastern Shoshone homeland in central Wyoming.
"It's chilling to see this kind of attack on Indian Country in 2014," said Northern Arapaho Business Council Chairman Darrell O'Neal.
The bill is a response to the U.S. Environmental Protection Agency's decision to treat the Wind River tribes as a state under the Clean Air Act. A detailed legal analysis in the EPA decision concluded that the town of Riverton is part of the Wind River Reservation, a position the tribes have always held.
Wyoming Gov. Matt Mead has asked the federal courts to determine whether the EPA analysis is correct. Enzi has decided instead to change the law.
In doing so, Enzi has turned his back on his approximately 15,000 tribal constituents in Wyoming, Northern Arapaho leaders said.
Northern Arapaho leaders traveled to Washington, D.C., last week to confront members of the Wyoming's delegation about the bill and their opposition to the tribes' treatment as a state application.
"We asked them to reconsider, to open their minds and work with us in good faith," said Councilman Al Addison, "but they were not interested."
As a result, tribal leaders made a call Tuesday for support and prayers from Native American people and governments everywhere. Tribal people must work together to prevent the loss of any more of our precious homelands, Chairman O'Neal said.
"If the Wyoming Delegation can do this to us, they can do it to any tribe in the nation," O'Neal added.... SOURCE | PDF.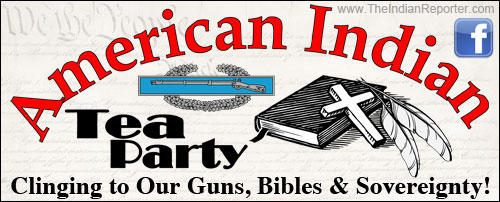 JOIN US, Get Involved!
Demand justice for Antonio West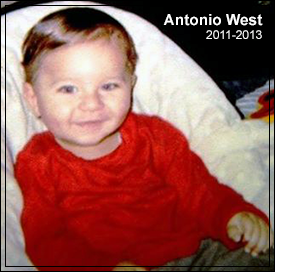 Hello. Don't recognize me? That's okay. I understand.
My name was Antonio West. I was the 13-month-old baby who was shot in the face at point blank range by two black teens who were attempting to rob my mother. They also shot her.
I think my murder and my mommy's wounding made the news for maybe a day, and then disappeared... READ ARTICLE.
| | |
| --- | --- |
| | "He said, 'I'm gonna kill you if you don't give me your money,' and I said, 'I swear, I don't have any,'" West said. "I put my arms over my baby and he shoves me and he shot my baby right in the head." |
Yet where is the public outcry like what happened over the Trayvon Martin killing?
The White House
Office of the Press Secretary
June 26, 2013
For Immediate Release
Executive Order -- Establishing the White House Council on Native American Affairs | The White House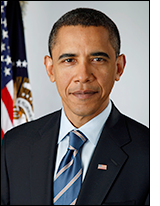 By the authority vested in me as President by the Constitution and the laws of the United States of America, and in order to promote and sustain prosperous and resilient Native American tribal governments, it is hereby ordered as follows:
Section 1. Policy. The United States recognizes a government-to-government relationship, as well as a unique legal and political relationship, with federally recognized tribes. This relationship is set forth in the Constitution of the United States, treaties, statutes, Executive Orders, administrative rules and regulations, and judicial decisions. Honoring these relationships and respecting the sovereignty of tribal nations is critical to advancing tribal self-determination and prosperity.
As we work together to forge a brighter future for all Americans, we cannot ignore a history of mistreatment and destructive policies that have hurt tribal communities. The United States seeks to continue restoring and healing relations with Native Americans and to strengthen its partnership with tribal governments, for our more recent history demonstrates that tribal self-determination -- the ability of tribal governments to determine how to build and sustain their own communities -- is necessary for successful and prospering communities. We further recognize that restoring tribal lands through appropriate means helps foster tribal self-determination... DOWNLOAD PDF.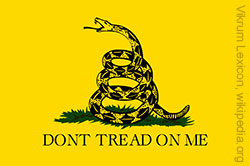 The Gadsden flag is a historical American flag with a yellow field depicting a snake coiled and ready to strike. Positioned below the snake are the words "Don't tread on me". The flag was designed by and is named after American general and statesman Christopher Gadsden. It was also used by the Continental Marines as an early motto flag, along with the Moultrie Flag (source wikipedia.org).
New York town confiscates veteran's flag, claiming "Tea Party" ties
by Timothy Whiteman
The City Council of New Rochelle, NY has ordered the Revolutionary War's Gadsden Flag to be removed from its flagpole and confiscated from a patriotic veteran's group, as reported by the Sacramento Bee on April 8, 2013.
The conservative-leaning Thomas More Law Center has been retained by New Rochelle resident and former U.S. Marine Peter Parente, who is also the president of the United Veterans Memorial & Patriotic Association of New Rochelle, New York (UVMPA-NR).
"We have just begun to fight," Richard Thompson, President and Chief Counsel of the Thomas More Law Center said... READ STORY.
From the CEO, Editor:
"Dear Tribal Community,"
(especially U.S. Military Veterans and their families)
BARONA INDIAN RESERVATION, JANUARY 23, 2013 — Janna Hoehn (Vietnam Veterans Memorial Fund VVMF), representing Jan Scruggs, presented the "Faces Never Forgotten" project to American Indian veterans to develop Tribal involvement in the national project... READ MORE.
SO CAL TRIBAL TIES
PALA BAND OF MISSION INDIANS: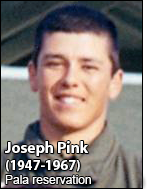 JOSEPH PATRICK PINK is honored on Panel 28E, Row 56 of the Vietnam Veterans Memorial.
Full Name: JOSEPH PATRICK PINK
Wall Name: JOSEPH P PINK
Date of Birth: 10/17/1947
Date of Casualty: 10/23/1967
Home of Record: SAN JACINTO
County of Record: RIVERSIDE
State: CA
Branch of Service: ARMY
Rank: SP4
Casualty Country: SOUTH VIETNAM
Casualty Province: QUANG TIN
MORONGO BAND OF MISSION INDIANS: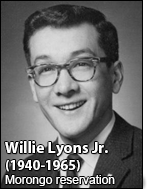 WILLIAM JOHN LYONS is honored on Panel 3E, Row 19 of the Vietnam Veterans Memorial.
Full Name: WILLIAM JOHN LYONS
Wall Name: WILLIAM J LYONS
Date of Birth: 7/27/1940
Date of Casualty: 11/4/1965
Home of Record: BANNING
County of Record: RIVERSIDE COUNTY
State: CA
Branch of Service: ARMY
Rank: 1LT
Casualty Country: SOUTH VIETNAM
Casualty Province: PR & MR UNKNOWN
JAMUL INDIAN VILLAGE A KUMEYAAY NATION: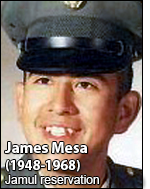 JAMES GREGORY MESA is honored on Panel 42W, Row 48 of the Vietnam Veterans Memorial.
Full Name: JAMES GREGORY MESA
Wall Name: JAMES G MESA
Date of Birth: 9/24/1948
Date of Casualty: 9/30/1968
Home of Record: JAMUL
County of Record: SAN DIEGO COUNTY
State: CA
Branch of Service: ARMY
Rank: PFC
Casualty Country: SOUTH VIETNAM
Casualty Province: QUANG DUC

US Department of Labor announces publication of final tribal consultation policy
News Release
OPA News Release: [12/04/2012]
Contact Name: Adriano Llosa or Laura McGinnis
Phone Number: (202) 693-4686 or x4653
Release Number: 12-2389-NAT
WASHINGTON — The U.S. Department of Labor today published in the Federal Register its finalized tribal consultation policy, which establishes a formal process through which the department will engage in consultation with federally recognized tribes on actions or policies that will have a significant impact on tribal nations. This policy requires that the department's government-to-government consultation with the federally recognized tribes involve appropriate tribal and department officials.
"The finalization of the Department of Labor's tribal consultation policy constitutes an important step in our ongoing efforts to more meaningfully engage with Indian Country," said Secretary of Labor Hilda L. Solis. "Implementation of this policy will ensure that the department honors the government-to-government relationship shared between the United States and the federally recognized tribes."

President Obama previously has cited Executive Order 13175, which was issued by President Clinton, tasking executive branch departments and agencies with engaging in regular and meaningful consultation and collaboration with tribal officials in the development of federal policies that have tribal implications.
Following the president's charge, the Department of Labor began devising a plan. The Department of Labor held a series of consultative listening sessions, including meetings with representatives of the Native American community, the department's Native American Employment and Training Council, and the National Congress of American Indians, preceding the finalization of the tribal consultation policy. A draft version of the policy was published in the Federal Register on April 18, 2012, followed by a comment period that ended June 18.
The final policy can be viewed in the Federal Register here: federalregister.gov
"Wall Street Journal Sizes Up Obama"
Actually this is part myth — "The Wall Street Journal" never ran Alan Caruba's (or Eddie Session's) Obama blog post at all, according to the official wsj.com blog post by Alan Caruba, but following is Mr. Caruba's original full article on President "Obama's Make-Believe Life."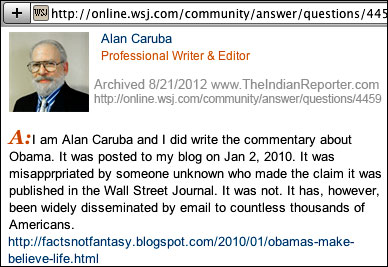 Obama's Make-Believe Life
by Alan Caruba
I have this theory about Barack Obama. I think he's led a kind of make-believe life in which money was provided and doors were opened because at some point early on somebody or some group took a look at this tall, good looking, half-white, half-black, young man with an exotic African/Muslim name and concluded he could be guided toward a life in politics where his facile speaking skills could even put him in the White House... FULL ORIGINAL ARTICLE.
U.S. and Tribal Leaders to Celebrate Soboba of Luiseño Indians Water Rights Settlement Act Today!
SAN JACINTO, Calif. — On Wednesday, Jan. 11, Assistant Secretary of the Interior for Indian Affairs Larry Echo Hawk, Assistant Secretary for Water and Science Anne Castle, Counselor to the Deputy Secretary Letty Belin and other U.S. officials will join tribal leaders including Scott Cozart, Chairman of the Soboba Band of Luiseño Indians, for a ceremony in San Jacinto, Calif., to celebrate conclusion of an historic U.S.-tribal water rights settlement.
Federal funding recently released under the Soboba Band of Luiseño Indians Settlement Act of 2008 marked the final step in the historic water rights settlement and fulfilled promises made to the Soboba Band and southern California communities when the Act was approved by Congress in 2008...SOURCE | PDF.
LOS COYOTES Band in the News:
Los Coyotes Band going for $160 million off-reservation casino deal:
From lucritive U.S. government military and law enforcement contracts to $160 million off-reservation casino plan with the City of Barstow that will create thousands of new jobs in the community, to massive arson-set fire on the reservation — the Los Coyotes band is making news headlines in Indian Country....
RINCON Band in the News:
Rincon-county agreement could mean millions for services:
by Christopher Cadelago, October 12, 2011, The San Diego Union-Tribune
A new tribal gaming agreement between the Rincon Band of Luiseño Indians and San Diego County could generate millions to supplement local firefighting, policing, transportation and problem-gambling treatment, officials said....
Big Supreme Court Win for Rincon Band:
by Michael Gardner, June 27, 2011 (The San Diego Union-Tribune)
SACRAMENTO — The U.S. Supreme Court Monday sided with a North San Diego County Indian tribe that had challenged the state's bid to exact money from casinos in return for permission to add slot machines.
The court, without comment, declined to hear an appeal of an earlier 9th Circuit Court of Appeal ruling in 2008 that declared the assessment illegal.
The decision is a big win for gaming tribes that had claimed former Gov. Arnold Schwarzenegger's demands for money in return for gambling expansions amounted to an illegal tax.
The Rincon Band of Luiseno Mission Indians led the court challenge....


Col. Van T. Barfoot (ret.) WW II Medal of Honor
Army Colonel Barfoot (retired) is one of only five American Indians to be awarded the Congressional Medal of Honor in the 20th century. He served in the WW2, Korean and Vietnam wars...then his neighborhood association told the 90-year-old warrior to take down his flag pole...
Remarks by President Obama at Bill Signing For The Claims Resolution Act — the Cobell v. Salazar Settlement:
For Elouise Cobell, lead plaintiff in the class action lawsuit over the federal government's mismanagement of the Indian Trust, President Obama's signing of legislation approving the settlement of the dispute sends an historic message to Indian Country. "After 123 years of living with what Congress once called the 'Broken Trust,' people throughout Indian Country will see Wednesday as a monumental day," said Ms. Cobell, a member of Montana's Blackfeet Nation.... For complete info please visit: WWW.COBELLSETTLEMENT.COM.
DOWNLOAD PDF | WHITEHOUSE PRESS RELEASE.


BO MAZZETTI blames the governor not the DOI
The situation we find ourselves in with the California compacts is not the doing of the Rincon Band or DOI. The person to blame is the governor of the State of California....
PAUMA TRIBE HOSTS WEEKLY AA MEETINGS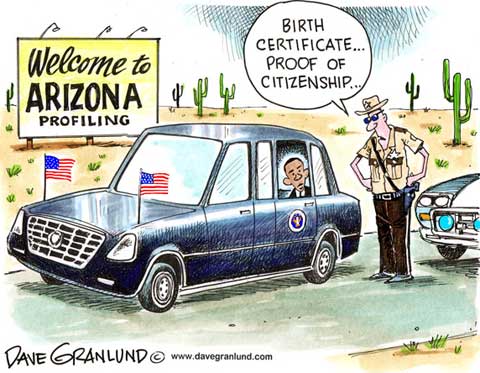 Welcome to Arizona Profiling, "Birth Certificate...Proof of Citizenship..." President Obama being pulled over by police in desert with billboard in background. Editorial cartoon illustration humor copyright Dave Granlund.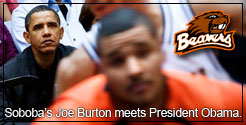 Soboba tribal member Joseph Burton played a college basketball game for President Barack Obama and the first family. Joseph and his teammates later visited the White House. Joseph is a 2009 graduate of West Valley High School and won a full basketball scholarship with Oregon State University OSU — Joseph is the second Soboba tribal member to meet a sitting president.
In the meantime, please see our HISTORY & MISSION STATEMENT.
Note: "The Indian Reporter" newsletter and Web site is not affiliated with www.indianreporter.com www.indianreporter.org www.indianreporter.net www.theindianreporter.org www.theindianreporter.net — we are a Native American Indian news organization based on the Soboba Indian Reservation, Southern CALIF, Southwestern United States of America USA.