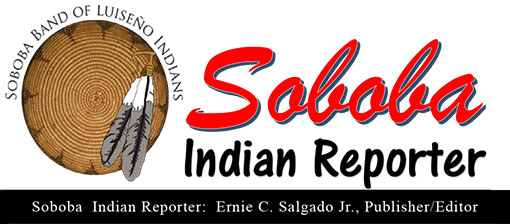 he "Soboba Indian Reporter" celebrated its two-year anniversary on Oct 1, 2017. The first Soboba Indian Reporter tribal newspaper was self-published on October 1, 2015 by Ernie C. Salgado, Jr, a Soboba tribal elder.
We are currently expanding our world-wide readership to include advertising on the CALIE.ORG website to help cover our out-of-pocket printing and distribution expenses.
The original intent of the Soboba Indian Reporter was to provide tribal information to the members of the Soboba Band of Luiseño Indians. However, it has expanded to provide relevant information to a larger audience of both tribal and non-tribal communities around the world.
Originally "The Indian Reporter" was established in 1962 by "Wild Bill" Jennings as a local grass roots tribal newsletter. Ernie Salgado (Luiseño) continued the newsletter electronically on the Internet in 2009. As Editor in Chief, Ernie Salgado Jr. is continuing Wild Bill's grass roots journalism work in 2017 by self publishing under the Soboba Indian Reporter masthead.
NOVEMBER EDITION:
DOWNLOAD NOW PDF
WE WANT YOUR NEWS:
MAILING & CONTACT INFORMATION:
ERNIE SALGADO, EDITOR
P.O. BOX 366, SAN JACINTO, CA 92581
CONTACT ERNIE SALGADO by email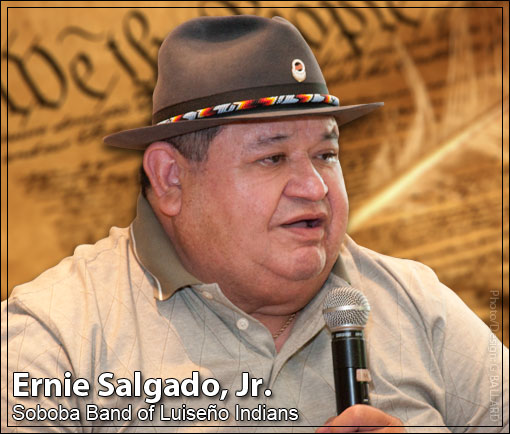 Ernie C. Salgado, Jr., publisher/editor.
SPECIAL VETERANS DAY ISSUE
Honoring Soboba Veterans
by Ernie C. Salgado, Jr., Editor, Soboba Tribal Elder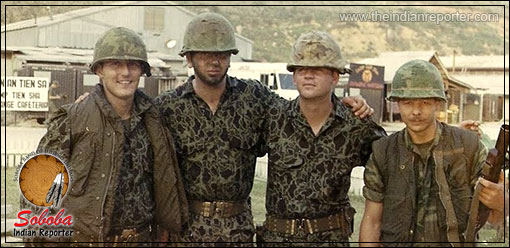 PHOTO CAPTION: The good looking guy second from the right is Richard "Dumbo" Salgado, a tribal member of the Soboba Band of Luiseño Indians. Richard served with the 1st Cavalry Airborne Division in Vietnam. He currently lives in Palms Springs, CA. Richard's Father and brother are also veterans. His father, Ernest Salgado Sr., served in WWII and his brother Ernie Jr. was serving in the Army National Guard when called on active duty in 1966.
SOBOBA TRIBAL MEMBERS KILLED IN ACTION: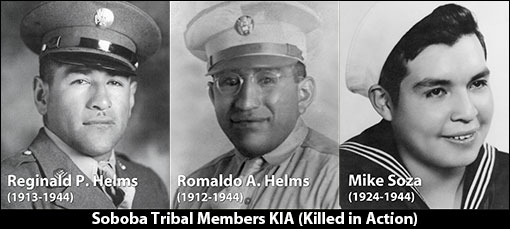 U.S. Army Private, Reginald P. Helms,
Killed in Action in Hotten, Belgium (1913-1944)
U.S. Army Private First Class, Romaldo A. Helms,
Killed in Action Anzio, Italy. (1912-1944)
U.S. Navy, Mike Soza (1924-1941)
Soboba Tribal members have served in the armed forces of the United States in every war and conflict since WW I.
The United States entered the war with the attack on Pearl Harbor, Hawaii on December 7, 1941 ending in May 1945 in Europe and September 2, 1945 with Japan. WW II officially began in September 1939 with the German invasion of Poland.
It is estimated that over 80 million people were killed during the seven years of WW II. U.S. military records indicate their were 670,846 Americans wounded and 405,399 lost their lives, three of which were Tribal Members of the Soboba Band of Luiseño Indians.
Currently 51 veterans are buried at the Soboba Tribal Cemetery of which 32 were Soboba tribal members, 12 Indians from other Indian tribes and 7 non-Indian.
World War I Soboba Veteran buried at Soboba are Prudencio Resvaloso who also served as with the U.S. Calvary as a Scout in Arizona, Danny Navarro, and David Navarro.
Non-Soboba veterans include Eugene Arenas (Cahuilla), Ben Largo (Cahuilla) and Mariano Largo (Cahuilla).... READ ERNIE'S COMPLETE SOBOBA HISTORY ARTICLE


FACEBOOK: "Native American Veterans"
CALIE HONORS OUR INDIAN WARRIORS — Includes a modern Web portal for Native American military veterans and their families, including medical and disability benefits, family services, Native American Medal of Honor recipients, historical articles — INDIGENOUS WARRIORS STUDY GUIDE.
+++++
Recent featured Soboba tribal news articles:


YES, WE ARE STILL HERE
by Annette Guachino, Iipay Nation of Santa Ysabel
While I was at La Jolla Shores, an elderly foreign woman, maybe Russian approached me. Heavy accent, she asked if we were real Indians and why we were singing and dancing there on the beach. She was genuinely interested, no sarcasm...


BACK TO SCHOOL ON THE RESERVATION
by Ernie Salgado, Soboba Tribe
It seems like the older we get the faster time flies or is it just my imagination getting the best of me, again?...


EDWARD CASTILLO is a well-known tribal educator and Native American activist who participated in the historic 19-month American Indian occupation of Alcatraz (1969-1971). He's also a famous Native American Indian book author and retired professor/director of Native American Studies at the Sonoma State University in California...


SILENT RAIN ESPINOZA (Viejas), Christian High School Girls Softball team posted an outstanding .560 batting average with 62 hits and scored 64 runs, named All American First Team...


AVELLAKA ARIVSO (Soboba), Hemet High School Girls Softball team, wins Bulldogs 2017 Most Valuable Player (MVP) award...


KEYERA "FLORES" CAMERON placed 2nd in the NFL 8-9 Year Old Pass, Punt and Kick Division Championships...


JOE BURTON (Soboba), a 2009 West Valley High School and Oregon State University Beavers basketball player, Joseph was voted 2016 MVP in his professional rookie year with the French ALM Évreux Basketball league team, continues successful pro sports career...
BACK TO SCHOOL
The "good old days" on the Soboba Indian Reservation


An historical perspective by Ernie C. Salgado, Jr., Soboba Tribal Elder
It seems like the older we get the faster time flies or is it just my imagination getting the best of me, again?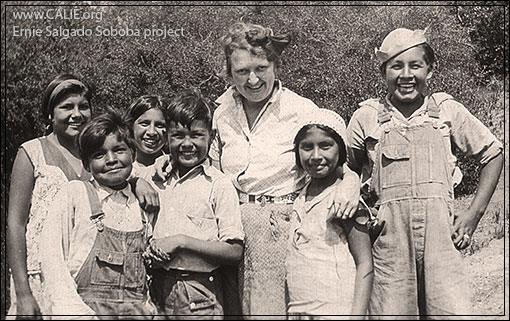 Historical Soboba Indian Reservation photos courtesy of Ernie Salgado tribal family multimedia restoration and archiving project.
For real it seems like my grandkids or great-grandkids I should say just got out for the summer and they are already heading back to the classroom. But it's great to have them over for late afternoon BBQs and dipping in the pool.
God, how things have changed....
In my day if we wanted to play in the water we either headed up to the canyon to play in the river or went to the community swimming pool in Hemet.
Most times Hemet wasn't an option because we played too rough for the other kids and were not welcomed back for a week or two.
Sometimes we had our bikes to get around but most of the time we weren't able to keep air in the tires for the bull thorn. We either walked or caught a ride with someone heading whichever way we were going. Although getting a ride in those days wasn't that easy either since there weren't that many cars on the Rez....
If it were today we would be the fashion icons with our shabby threadbare Levi's, white T-shirts and bare feet. And when and if we had shoes it was show time....
I will always remember during the summer when Mr. and Mrs. Badilla had the first TV on the Rez.
In 1950 TV was a major electronic breakthrough. Every Friday evening everyone on the Rez gathered at their house and they would put the TV on their front porch for us to watch.... READ ERNIE'S SOBOBA FEATURE STORY

Public Law 280: Tribal Rights and Jurisdiction, Soboba Lawsuit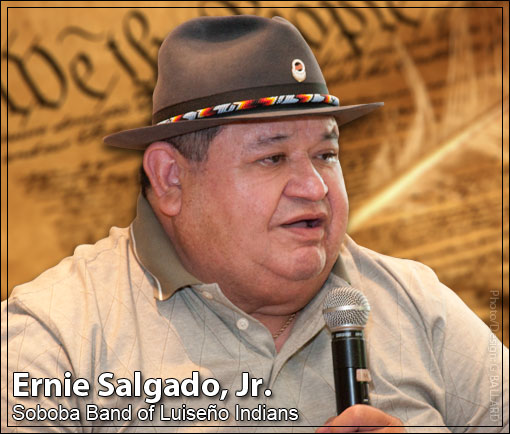 by Ernie C. Salgado, Jr. (Soboba tribe)
On June 9, 2017 Soboba Band of Luiseño Indians tribal attorney George Forman filed a lawsuit against the Riverside County Sheriff's in the United States District Count, Central District of California. The main issues of the lawsuit are tribal rights, authority and jurisdiction.
The legal action taken by the Soboba Tribal Council stems from the alleged illegal actions taken by the Riverside sheriffs during their investigation of a missing person (Jerome Salgado Jr.) from May 26-31, 2016.
The Soboba lawsuit Introduction states:
During the period of May 26-31, 2016, agents of the Riverside County Sheriff's Office invaded the Soboba Indian Reservation ("Soboba Reservation" or "Reservation") of the Soboba Band of Luiseño Indians ("Soboba Band" or "Band") to execute a search warrant that was issued based on false statements of an RSO deputy.
Having trespassed on the Soboba Reservation to execute its unlawful warrant, the RSO then seized the Tribal Administration building, commandeered the Band's employees to download hundreds of hours of video surveillance from over 100 cameras, seized additional video surveillance footage outside the scope of the unlawful warrant..."... READ MORE
American Indians Second Class Citizens by Choice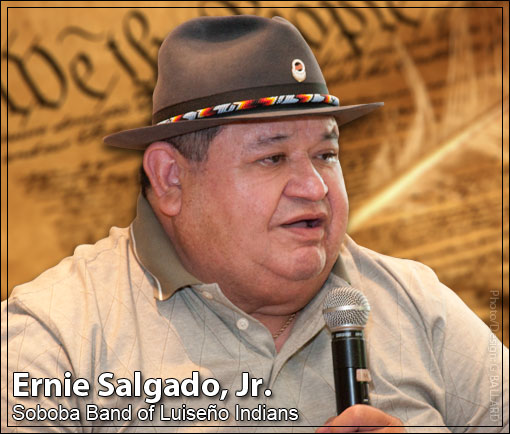 by Ernie C. Salgado, Jr. (Soboba tribe)

told myself not to write this article but sometimes I just can't help myself. I guess I'm like the bug in the movie "Bugs Life" when he was told don't look at the lights and as he looked at the light he said "I can't help it." So since I can't help myself I am going to expose this can of worms.
What is pathetic is that non-American citizens seem to get more protections from the Constitution of the United State of America than the American Indian tribal people. In fact just the other day the Federal Court judge in Hawaii ruled that the Trump travel ban was not legal because it violated the Civil Rights of the non-citizens. And if that's not bad enough the Supreme Court ruled that the U.S. forces in combat fighting the Islamic extremist must read them their Miranda Rights.
Sure the United States Congress passed the Indian Civil Rights Act in 1968 (H.R. 2516) stating "The Indian Civil Rights Act of 1968 (ICRA) applies to the Indian tribes of the United States and makes many, but not all, of the guarantees of the Bill of Rights applicable within the tribes. The legislation also addressed the crises of domestic violence that pledge the American Indian community.
The Act appears today in Title 25, sections 1301 to 1303 of the United States Code. The "and makes many, but not all," are troublesome and were not defied The US Supreme Court had made clear that tribal internal affairs concerning tribal members' individual rights were not covered by the Fifth Amendment to the US constitution. However, the tribes were ultimately subjected to the power of Congress and the Constitution... READ MORE.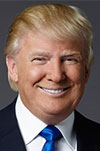 WHY I VOTED FOR DONALD TRUMP
by Ernie Salgado, Soboba Tribal Elder
October 2017
If you're one of the Progressive liberal "Cool-Aid Drinkers" that still don't know why Donald Trump was elected President of the United States of America, let me explain why I and many others like me voted for him.
With all the demonization and racist rhetoric set aside let me assure you that I'm not a white supremacist or a neo-Nazi.
What I am is a federally recognized Reservation American Indian. I spent the first 18 years of my life on the Soboba Indian Reservation located in Southern California. And at age 76, I have had the opportunity to experience the greatness of this Country...
Soboba Tribal Water Right
By Ernie C. Salgado Jr.
February 2017
SOBOBA INDIAN RESERVATION -- Long before Standing Rock the American Indian tribes including Soboba have been fighting the Bureau of Indian Affairs (BIA), powerful Government agencies, Cities, and States to protect the tribal water rights.
Many tribe even had to file law suits against the Bureau of Indian Affairs (BIA) for their failure to protect our water rights which was their responsibility. Many of the BIA agencies went so far as to side with the people that were infringing on the tribal water rights.
Soboba for example, in 1990 was awarded damages by the federal courts against the BIA as part one for failure to protect the Soboba tribes water rights. "Negligence." is what the court labeled It. But it should have been criminal as the BIA administration forced an entire generation to live without an adequate domestic water supply while trying to force the tribe give up their water rights the local water district.
The people of Soboba were forced to haul water from the nearby City of San Jacinto when the water usage on the reservation exceeded underground water level which was set at a depth of 100 feet. Request by the tribal leader to lower the domestic water wells pump to allow for the production of more water was continually denied by the BIA.
And although the tribe had funds allocated and available to increase the ground water supply for the reservations residence it refused to allow it -- for over 30-years.
In 1975 U.S. President, Richard M. Nixon signed Public Law 93-638, the American Indian Self-Determination and Education Act into law. The legislation provided for input into the development of the regulations for the implementation of the Act by the tribes ... READ MORE.
Soboba's Joseph Burton Takes France By Storm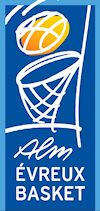 Soboba Tribal member Joe Burton was voted 2016 MVP in his rookie year with the French ALM Évreux Basketball league team.
Joseph began his professional basketball career in 2013 with Aalborg Vi-kings In the Danish Basketligaen, where he averaged 22 points, 12.5 rebounds and 4 assists.
For the 2014–15 season, signed with Landstede Basketball. At the end of the regular season, he won the DBL Statistical Player of the Year Award and was named to the All-DBL Team and DBL All-Defense Team. During the 2015–16 season, Joseph played with the ALM Évreux Basket earning the MVP award.Joseph is the son of Dondi Silvas and the grandson of Charlie "B-Bop" and Yvonne Silvas. He was born on November 2, 1990 and live his entire life on the Soboba Indian Reservation.... READ MORE.
MILITARY FAMILY NOTES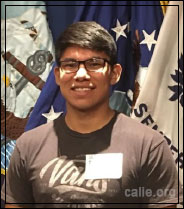 Frank Red Bow Basquez-Gallerito, the 19-year-old son of Mia and Frank Bow Basquez-Gallerito, is scheduled to complete his Naval basic military training (boot camp) around the middle of May 2017.
The young recruit is undergoing his basic training at the Great Lakes Naval Station in Illinois.
Frank enlisted in the United State Navy on September 14, 2016. He took the oath of military service at the Military Entrance Processing Station in San Diego. He enlisted for eight-years of active duty and three-years of reserve service time. When asked why he enlisted for eight-years of active duty as apposed to the normal four-years.
He reported for active duty at the U.S. Naval Base in San Diego on March 16, 2017. Although he enlisted in September 2016 his date for re-porting for active duty was delayed by the Navy since he was enrolled with the Southern California EMS Training institute in Murrieta.
He will complete his basic training around the middle of May 2017 at the Great Lakes Naval Station in Illinois adjacent to Waukegan, IL on the north side of Chicago.
Upon completion of his eight-weeks of basic training he will begin his Military Occupational Specialty (MOS) training as a certified electrician.
Frank graduated from San Jacinto High School on June 9, 2016. During his four-years of high school he participated in the Junior Reserve Officers' Training Corps (JROTC) pro-gram.
Frank is the middle child of five siblings. He spend the first 15-years of his life on the Mescalero Apache Indian Reservation in New Mexico where he is an enrolled tribal member. The Mescalero Apache reservation is also the home of many of the blood relatives of the famous Apache warrior, Geronimo.
However, he has deep family roots with the Soboba Indian Reservation in Southern California.
The Basquez-Gallerito family moved to the Soboba reservation in 2012. However, his mother, Mia, said she made sure they came home every summer.
From the CEO, Editor:
"Dear Tribal Community,"
(especially U.S. Military Veterans and their families)
BARONA INDIAN RESERVATION, JANUARY 23, 2013 — Janna Hoehn (Vietnam Veterans Memorial Fund VVMF), representing Jan Scruggs, presented the "Faces Never Forgotten" project to American Indian veterans to develop Tribal involvement in the national project... READ MORE.
SO CAL TRIBAL TIES
PALA BAND OF MISSION INDIANS: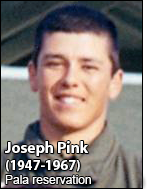 JOSEPH PATRICK PINK is honored on Panel 28E, Row 56 of the Vietnam Veterans Memorial.
Full Name: JOSEPH PATRICK PINK
Wall Name: JOSEPH P PINK
Date of Birth: 10/17/1947
Date of Casualty: 10/23/1967
Home of Record: SAN JACINTO
County of Record: RIVERSIDE
State: CA
Branch of Service: ARMY
Rank: SP4
Casualty Country: SOUTH VIETNAM
Casualty Province: QUANG TIN
MORONGO BAND OF MISSION INDIANS: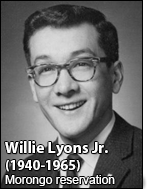 WILLIAM JOHN LYONS is honored on Panel 3E, Row 19 of the Vietnam Veterans Memorial.
Full Name: WILLIAM JOHN LYONS
Wall Name: WILLIAM J LYONS
Date of Birth: 7/27/1940
Date of Casualty: 11/4/1965
Home of Record: BANNING
County of Record: RIVERSIDE COUNTY
State: CA
Branch of Service: ARMY
Rank: 1LT
Casualty Country: SOUTH VIETNAM
Casualty Province: PR & MR UNKNOWN
JAMUL INDIAN VILLAGE A KUMEYAAY NATION: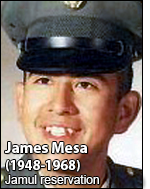 JAMES GREGORY MESA is honored on Panel 42W, Row 48 of the Vietnam Veterans Memorial.
Full Name: JAMES GREGORY MESA
Wall Name: JAMES G MESA
Date of Birth: 9/24/1948
Date of Casualty: 9/30/1968
Home of Record: JAMUL
County of Record: SAN DIEGO COUNTY
State: CA
Branch of Service: ARMY
Rank: PFC
Casualty Country: SOUTH VIETNAM
Casualty Province: QUANG DUC
U.S. and Tribal Leaders to Celebrate Soboba of Luiseño Indians Water Rights Settlement Act Today!
SAN JACINTO, Calif. — On Wednesday, Jan. 11, Assistant Secretary of the Interior for Indian Affairs Larry Echo Hawk, Assistant Secretary for Water and Science Anne Castle, Counselor to the Deputy Secretary Letty Belin and other U.S. officials will join tribal leaders including Scott Cozart, Chairman of the Soboba Band of Luiseño Indians, for a ceremony in San Jacinto, Calif., to celebrate conclusion of an historic U.S.-tribal water rights settlement.
Federal funding recently released under the Soboba Band of Luiseño Indians Settlement Act of 2008 marked the final step in the historic water rights settlement and fulfilled promises made to the Soboba Band and southern California communities when the Act was approved by Congress in 2008...SOURCE | PDF.
LOS COYOTES Band in the News:
Los Coyotes Band going for $160 million off-reservation casino deal:
From lucritive U.S. government military and law enforcement contracts to $160 million off-reservation casino plan with the City of Barstow that will create thousands of new jobs in the community, to massive arson-set fire on the reservation — the Los Coyotes band is making news headlines in Indian Country....
RINCON Band in the News:
Rincon-county agreement could mean millions for services:
by Christopher Cadelago, October 12, 2011, The San Diego Union-Tribune
A new tribal gaming agreement between the Rincon Band of Luiseño Indians and San Diego County could generate millions to supplement local firefighting, policing, transportation and problem-gambling treatment, officials said....
Big Supreme Court Win for Rincon Band:
by Michael Gardner, June 27, 2011 (The San Diego Union-Tribune)
SACRAMENTO — The U.S. Supreme Court Monday sided with a North San Diego County Indian tribe that had challenged the state's bid to exact money from casinos in return for permission to add slot machines.
The court, without comment, declined to hear an appeal of an earlier 9th Circuit Court of Appeal ruling in 2008 that declared the assessment illegal.
The decision is a big win for gaming tribes that had claimed former Gov. Arnold Schwarzenegger's demands for money in return for gambling expansions amounted to an illegal tax.
The Rincon Band of Luiseno Mission Indians led the court challenge....


Col. Van T. Barfoot (ret.) WW II Medal of Honor
Army Colonel Barfoot (retired) is one of only five American Indians to be awarded the Congressional Medal of Honor in the 20th century. He served in the WW2, Korean and Vietnam wars...then his neighborhood association told the 90-year-old warrior to take down his flag pole...


BO MAZZETTI blames the governor not the DOI
The situation we find ourselves in with the California compacts is not the doing of the Rincon Band or DOI. The person to blame is the governor of the State of California....
Note: "The Indian Reporter" newsletter and Web site is not affiliated with www.indianreporter.com www.indianreporter.org www.indianreporter.net www.theindianreporter.org www.theindianreporter.net — we are a Native American Indian news organization based on the Soboba Indian Reservation, Southern CALIF, Southwestern United States of America USA.