HISTORICAL DOCUMENTS
U.S. GOVERNMENT


The Constitution of the United States.
A complete transcription of original text with high-resolution images for downloading.


The Declaration of Independence, July 4, 1776
A full transcription of original text with high-resolution photo.


Archives.gov for — General Public | Genealogists/Family Historians | Veterans and their Families | Educators and Students | Researchers | Records Managers | Preservation and Archives Professionals | Information Security Specialists | Federal Employees | Members of Congress | Press/Journalists
SOBOBA TRIBAL GOVERNMENT
THE INDIAN REPORTER Newspaper 1960s-1970s, archive.
The Soboba Band of Luiseño Indians Settlement Act signed by President George W. Bush on July 31, 2008.
CALIFORNIA INDIAN TRIBAL HISTORY
Native American Graves Protection and Repatriation Act NAGPRA PUBLIC LAW 101-601--NOV. 16, 1990 (DOWNLOAD PDF)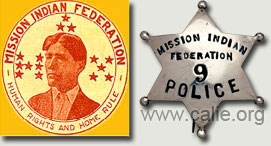 The Mission Indian Federation MIF was Southern California's most popular and long-lived grass-roots political organization...between 1919 and 1965, its membership wrestled with some of the most difficult political and legal questions of the 20th century...


FAMOUS INDIAN CHIEFS of North America is being compiled to introduce young Native American Indian students to a few of their nations' most famous Indian chiefs, the brave tribal leaders and warriors who have left their mark on the history of our great lands...