ABOUT TIR, HISTORY & MISSION STATEMENT
Who is Antonio West?
BRUNSWICK, GEORGIA -- Antonio Santiago (also known as Antonio West) is a 13-month-old baby who was fatally shot point blank in the face on March 21, 2013, during a bungled robbery attempt. The suspects are two black minors, ages 14 and 17.
Demand justice for Antonio West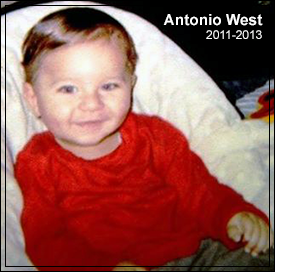 Hello. Don't recognize me? That's okay. I understand.
My name was Antonio West. I was the 13-month-old baby who was shot in the face at point blank range by two black teens who were attempting to rob my mother. They also shot her.
I think my murder and my mommy's wounding made the news for maybe a day, and then disappeared.
A grand jury of my mommy's peers from Brunswick, Georgia ruled the teens who murdered me will not face the death penalty... too bad it was me who got the death sentence from my killers instead, because Mommy didn't have the money they demanded at gunpoint.
| | |
| --- | --- |
| | "He said, 'I'm gonna kill you if you don't give me your money,' and I said, 'I swear, I don't have any,'" West said. "I put my arms over my baby and he shoves me and he shot my baby right in the head." |
You see, my family made the mistake of being white in a 73-percent, non-white neighborhood, but my murder wasn't ruled a hate crime.
Oh, and President Obama didn't take a single moment to publicly acknowledge my murder. After all, he couldn't have any children who could possibly look like me - so why should he care?
I'm one of the youngest murder victims in our great Nation's history, but the media didn't care to cover the story of my being killed in cold blood.
There isn't a white equivalent of Al Sharpton because if there was he would be branded a racist. So no one's rushing to Brunswick, Georgia to demonstrate and demand justice for me.
There's no White Panther Party, either, to put a bounty on the lives of the two black teens who murdered me.
I have no voice, I have no representation, and unlike those who shot me in the face while I sat innocently in my stroller - I no longer have my life.
Isn't this a great country?
So while you're out seeking 'justice for Trayvon', please remember to seek 'justice' for me. Tell your friends about me, tell your families, get T-shirts with my face on them, and make the world pay attention, just like you did for Trayvon.
But I won't hold my breath.
I don't have to anymore.

Justice For Antonio West on Facebook.com
NEWS FOR ANTONIO WEST
Baby shot dead in stroller; 2 Georgia teens charged with murder
by Tom Watkins, Nick Valencia and Phil Gast, CNN, March 23, 2013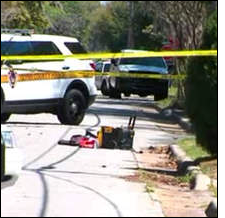 Brunswick, Georgia (CNN) -- Two teen boys in this coastal city were charged with murder Friday, accused in the fatal shooting of a 13-month-old boy who was in a stroller being pushed by his mother.
Aided by a description and a check of school attendance records to determine who was not in classes Thursday, officers searched for the young suspects and took them into custody, police said...
Teens Arrested for Shooting, Killing Infant in Georgia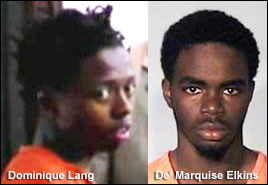 Brunswick, Georgia police arrested 17-year-old De'Marquise Elkins and a 14-year-old boy, whose name is being withheld due to his age, yesterday in connection with the shooting death of Sherry West's 13-month-old son...
Baby's death marks 2nd time Georgia mom loses a son to violence
by Michael Martinez. Tom Watkins and Nick Valencia, CNN, March 25, 2013
Brunswick, Georgia (CNN) -- The fatal shooting of a 13-month-old boy in his stroller marked the second time mother Sherry West lost a son to violence, she said Saturday.
Her 18-year-old son was stabbed to death in 2008 in New Jersey, she told CNN.
"This is the second child that people have taken from me in a tragic way," West said. "I'm so afraid to have any more babies now. I tried to raise really good kids in a wicked world."
The day after two teenage boys were arrested and charged in the fatal shooting of her baby, West said she was planning to leave Brunswick and return to New Jersey. The boy's father has also been emotionally distraught, West said.
Asked about the person who shot her son, Antonio, West stated: "I hate you and I don't forgive you.
"You killed an innocent human life," she said. "I hope you die for it...".
Posted by:



Contributed by Ernie Salgado, Jr.
MAIN BLOG CALIE.ORG
Tribal: Luiseño
Reservation: Soboba Indian Reservation
Web Site: www.apapas.com
CONTACT
RESUME/BIOGRAPHY